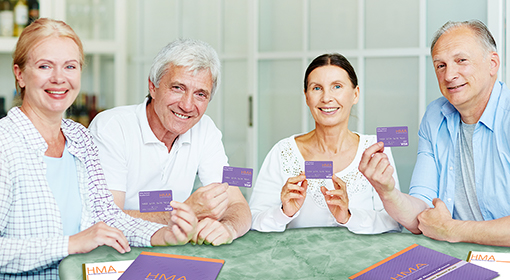 1) Why Is The HMA® The Perfect Complement To Any Medicare Plan?
Unlike other Medicare Supplemental competitors, the HMA® can be used for ANY medical expense
This includes elective procedures (with MD surgeons only) like vision and plastic surgery
Monthly rates do not increase and the growth rate of your HMA® account is guaranteed
2) The HMA® Is A Better Value

Find The HMA Plan That Fits Your Budget: You choose the amount you want to contribute each month into the plan from one of our 11 different monthly contribution options that can fit into any family's monthly finances
Your account will grow on average $2 for every $1 that you contribute into your account to pay for all of your out-of-pocket, medical expenses including copays, coinsurance, deductibles, doctor visits, pharmacy costs and any other medical expense that you can think of including elective procedures
Empower Yourself Not The Insurance Companies: WHY LEASE YOUR MEDICAL BENEFITS WHEN YOU CAN OWN THEM INSTEAD? Your unused HMA® medical benefits that you receive each month will carry over each year as your account builds until YOU decide how you wish to use them
3) Avoid The Headaches: The HMA® Is Easier To Use Than Any Other Alternative

Steer clear of the hassle of the medical expenses filing process that can take months to settle
Take matters into your own hands with your own HMA® Medical Reimbursement Visa® Prepaid Card and resolve
your payment immediately on the spot by swiping your HMA® card at your service provider
The HMA® is not Health Insurance.
The HMA® Medical Reimbursement Visa® Prepaid Card is issued by The Bancorp Bank pursuant to a license from the Visa®
U.S.A Inc. The Bancorp Bank; Member FDIC. Card may not be used everywhere Visa® debit cards are accepted.
See Cardholder Agreement for list of eligible goods, services and merchants.