■  Health Matching Reimbursement Account contribution levels can be adjusted per group tier or family structure to fit any employer budget
■  Employers can select from different account balance level maximums per group tier or family structure
■  No further monthly, employee contribution by employer once member account balances reach target account balance cap (only small maintenance fees required on behalf of those members)
HMRA® Contribution Options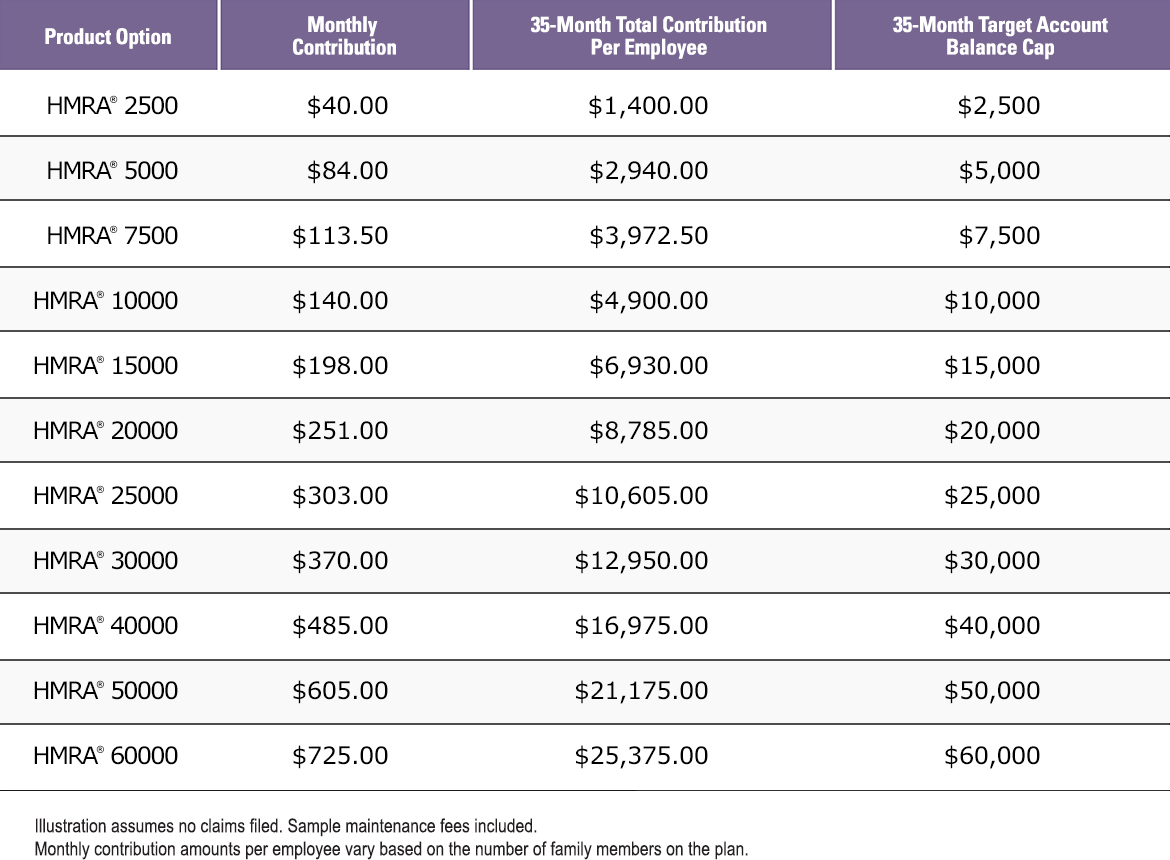 Health Matching Reimbursement Account (HMRA®) contribution levels are designed to be flexible in order to accommodate self-funded or fully-insured employers seeking to build valuable medical reserves on their group members and to significantly reduce their health care obligations by pre-funding member claims through the HMRA® Program. Employers will have the option of selecting a different HMRA® product option for each of their group's family tier arrangements and structures. Health Matching Account Services is the exclusive provider and offers 11 different levels of HMRA® contribution programs per member or family per month with corresponding target account balance caps for the employer to choose from. These member account balances are permitted to build up and carry over year-to-year even if the benefits are not used by the group members.
Once group members begin to hit their target account balance caps, the employer is no longer responsible for allocating a full portion of their monthly contribution towards that group member's HMRA® account balance until another claim is filed (only small maintenance fees are required at that point). This will serve to decrease the amount contributed towards their HMRA® program on a monthly basis as a whole while the employer still retains all of the medical reserves that have accrued for each group member because the benefits carry over year-to-year.
The HMRA® is a medical reimbursement account program that pre-funds employee claims ahead of time into reimbursement accounts that earn a first-dollar, medical benefit crediting that grows following each monthly, employer contribution. In a self-funded arrangement, the HMRA® Program serves to reduce an organization's first-dollar exposure up to their specific deductibles as well as to reimburse employees directly on any of their qualifying, 213(d) medical expenses. For fully-insured and HRA groups, the HMRA® can serve as the funding vehicle for their existing HRA Program. The HMRA® benefits can be implemented by employers through a separate, plan document to fund a Section 105 HRA plan design by issuing the Health Matching Account Services HMRA®/HRA Visa® Prepaid Card to pay for most of their 213(d) medical expenses  up to the group member's current account balance at the time of the claim.
The HMRA® leads to significant savings over time by addressing the most expensive portion of health care costs for groups. The HMRA® savings are secured above and beyond what the employer contributes into the program by receiving additional medical benefits flowing into the company that would not have been possible without the HMRA® program in place because of the rapid growth of the employer's HMRA® medical reserves.
The Health Matching Account Services HMRA®/HRA Program is not Health Insurance.
The HMRA®/HRA Visa® Prepaid Card is issued by The Bancorp Bank pursuant to a license from the Visa® U.S.A Inc.
The Bancorp Bank; Member FDIC. Card may not be used everywhere Visa® debit cards are accepted. See Cardholder Agreement for list of eligible goods, services and merchants. Health Matching Reimbursement Accounts are a patent-protected product. Claim cost and frequency may vary by group. Charges and fees may vary by group. This is not an illustration or a formal quote. Ask your broker for a formal quote.